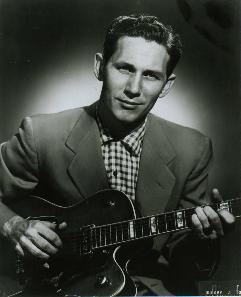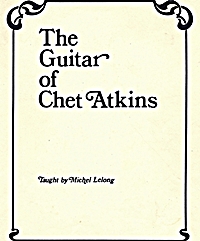 Guitar Methods MP3 Extracts – Tabs Extract
Informations
All the Michel Lelong's english guitar lessons on Merle Travis, Chet Atkins and Jerry Reed styles was published by Stefan Grossman's Guitar Worshop in the 80'/90′.
Notice: The tablature/music are in PDF and the audio files in mp3. You will receive the material by e-mail.
Contents
The guitar playing of Chet Atkins has influenced generations of guitarists. His guitar solos have become classics in the fingerstyle repertoire. He has bridged folk, jazz, pop, blues and rockabilly styles and techniques to produce a highly individual style and sound. His playing was greatly shaped by the guitar techniques and ideas of Merle Travis. Michel Lelong has put together a series of six lessons that highlights and focuses on many aspects of Chet Atkins's playing skills. For the intermediate to advanced player. 72 page tab/music book.
Lesson One
Our first lesson introduces the Atkins approach with Copper Kettle and Paul Simon's The Boxer.
Lesson Two
Playing in the key of A. Steve Goodman's City Of New Orleans and the bossa-nova solo Meditation.
Lesson Three
One of Chet's most imitated solos, Windy And Warm. Drive In a Chet Atkins/Jerry Reed blues played in the key of A.
Lesson Four
Jazz standards have always played an important part in Chet's repertoire. We study his arrangements for The Girlfriend Of The Whirling Dervish and George Gershwin's Liza.
Lesson Five
Paul Desmond's Take Five based on an arrangement by Jorge Morel. The open G6 tuning ( D G D G B E ) and the folk song The Wreck Of The John B.
Lesson Six
Open G tuning ( D G D G B D ) and Hawaiian Slack Key, Wheels and Black Mountain Rag.
Order
Please before any order send an e-mail to m.lelong.music@gmail.com
| | | |
| --- | --- | --- |
| Descriptions | Prices | Paypal Buttons |
| Complete series tablatures and PDF music score book and mp3 files | 35 € | |
| Tablatures-music score booklet without audio lessons (see the contents below) | 20 € | |
Tablature per unit with mp3 audio lesson
Prices
Paypal button
Copper Kettle
6 €
The Boxer
6 €
City of New-Orleans

6 €
Meditation
6 €
Windy and Warm

6 €
Drive in

6 €
The Girlfriend Of The Whirling Dervish

6 €
Liza

6 €
Take Five

6 €
The Wreck Of The John B.

6 €
Hawaiian Slack Key

6 €
Wheels

6 €
Black Mountain Rag

6 €
View Cart