Guitar Workshops "On Request" (collectives or private)
Let us know if you are interesting by other periods, if you want to enjoy a guitar wokshop in your area. Or may be you will prefer to spend a good time in the Loire Valley for a private guitar workshop and visit the area (wine cave, Loire valley castle etc..) guitar workshop!
(Tours is just in the Center of France)
Styles
Country-blues
Rag
Travis-picking
Folk
Old-time
Jazz Roots
Music theory
Techniques
Finger-picking
Solo
Slide
Acoustic Blues & Ragtime Guitar Workshop Program (All Levels)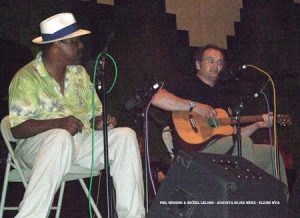 Technical finger-picking and traditional solo
Study of styles depending on the region (Delta, Piedmont blues …)
Construction of accompaniment rhythmic
Approach to improvisation and development (scales,apergios, phrasing etc..)
Transposition and chords amplifications and subtitutions
Theme harmonic analysis
Learn by listening
Development of a finger-picking accompaniment
Techniques for finger picking arrangement (alternating and monotonic bass line, contrepunctiques)
Slide (bottleneck) and open-tuning
What people are saying
The European Blues Association, England
Michel lelong from Tours, France, is a great guitarist and a highly skilled teacher.
Michael Messer web site forum
Our good friend michel lelong in tours has written a blues guitar instruction book called "La guitare blues acoustique" […]. It is one of the best I have seen.
Larry Conrad
La Gazette de Greenwood – France – "The acoustic blues method"
Is it human to master so many styles? In any case, beyond the method to learn blues guitar, the method cd can be listened with a great pleasure by those who love the blues guitar! As for those who decide to learn the blues with michel lelong has chosen a tutor who knows his subject… This is the least we can say…
Country Folk Bluegrass Guitar Workshop (All Levels)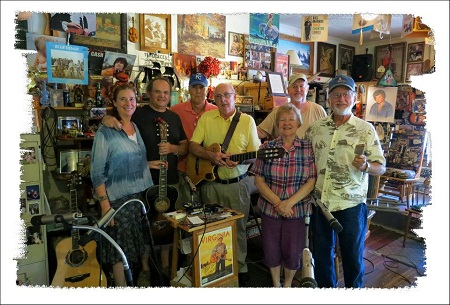 How to play together
Technical finger-picking and traditional solo
Study of styles
Construction of accompaniment rhythmic
Approach to improvisation and development (scales,apergios, phrasing etc..)
Transposition and chords amplifications and subtitutions
Theme harmonic analysis
Learn by listening
Development of a finger-picking and flat-picking accompaniment
How to make your own arrangement in finger picking or flat-picking
Open-tuning
What people are saying
Guitare et Claviers (French guitar magazine – may 97)
With Michel Lelong, we discover through this video a musical style uncommon in france and that's a shame…
Le cri du coyote (French music magazine on the traditionnal north-american music – no. 44 – 1996)
Each exercise is not a fake mini-concert, but a total count of units difficulties seizure: a slow pace, then finally real comments simple and precise. Michel lelong makes you want to sharpen your fingerpicks….
Jacques Bremond
Celtic Guitar Workshop Program (All Levels)
Study in standard tuning and open-tuning DADGAD
Technical finger-picking and solo
Harmonic analysis of a theme
Learn by listening
Construction of rhythmic accompaniment (reel, hornpipe, jig …)
Development of a finger-picking accompaniment
How to arrange in finger picking (alternatin & monotonic bass, contrepunctiques)
What people are saying
Guitare et Claviers – France – May 98 – Guitar magazine
Few professors teach this style (…), after the very interesting "Country guitar instructionnal video" for the same publisher, michel lelong realised again the same challenge with the "Celtic guitar instructionnal" (…) the arrangements are especially for owners of folk guitar. Both techniques are the "Finger-picking"And "Flat-picking".