Guitar CD (with tablatures)
Tablatures of all following musics can be puchased for 3.50 € per unit.
Home Cookin'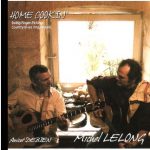 Styles
Country Blues, Swing-Picking, Rags, Roots Jazz and Folk music

Artistes
Michel Lelong (finger-picking acoustic guitar, vocal, banjo old-time)
Anicet Debien (acoustic guitar bass)
(Listen also the C.D.extracts on CD Baby)
You can order on line the last Michel Lelong's C.D."Home Cookin' " on CDmail
or directly from this web site (see
order
)
Price : $ 15 Postage: $ 2.50

Noir & Blanc (1996)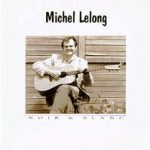 Styles
Country Blues, Swing-Picking, Rags, Roots Jazz et Folk
CD streaming available on Deezer, Itunes, etc…
The album "Noir & Blanc" comprises 15 titles : 10 comtemporary finger-style guitar tunes and two songs, three Lelong's arrangements of Celtic music played in medley, then a French popular song called "La Javanaise" played for the first time on the guitar (composed by the french famous genius Serge Gainsbourg). For this album, Michel Lelong didn't only make an ordinary guitar record, he surrounded himself with the best Parisian Bluegrass/Blues musicians : Greg Szlapczinski : mouth harp, Eric Gloaguen : Bluegrass Banjo, Frédéric Hamel : mandolin, Jean-Gilles Kerbiguet : bass, and the American musician Susy Gott : fiddle…

All the following CDs are now sold only in mp3 or audio fidelity .wav. They are mailed by the association mailody. The cost is $ 1 per unit.
The Dare Devil (1992)

Style
Fingerstyle Guitar : Blues, Ragtime, Swing and Jazz

One more C.D. recorded in 1992 included new Michel Lelong's arrangements and compositions played on acoustic Lowden Irish Guitar, just alone… An intermediate album just between the vinyl "Guitare Instrumentale" recorded in 1983 (just remastered and available in C.D. just now) , and the last C.D. in 1996 called "Noir & Blanc" with some Michel's guests…
Titles
Chester Swing, Cool And rest, The Dare Devil, La Javanaise, The A.D. Meeting Story, Caméléon Rag, Five Yeras Ago, Four Dreams, Hotch Potch, The Goo-Goo Rag, Spanish Cocktail, Princess Waltz, Marcel's Tune, Six Strings Rag, Blue Devils' Flowers, Bibi Smile.
Country Blues Tribute (1999)

Styles
Instrumental "Country Blues" guitar

23 titles in this CD all composed by Michel Lelong in the most and pure Country Blues spirit, the whole was composed originally for a blues guitar method called "Le Blues Acoustique", written by Michel for a french publisher in 99 ("Guitar Connection" – PDG Music Publishing – Paris). The ideal C.D. to discover and understand the different styles of blues from the Deep South to the East Coast…
Titles
Lonnie's Louisiana Guitar, Get A Drink With Mc Dowell, Twelve Bars With Mance, Brownie's Blues; Ramblin' On Robert Johnson's Spirit, Watson's Guitar Blues, Mister Lightnin', Blind Blake's Blues Guitar, Texas Guitar Blues GaryLogy, John Hurt Wanabee, C.I.A. Blues, Kentucky Thumpicking Blues, Eight "Bottleneck Riffs", B.B.B's Guitar
Guitare instrumentale (1983)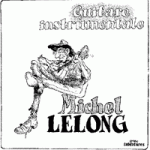 Vinyl LP remastered in digital
LP single (collector): 25 € with 5 tablatures include
Recorded in 1983. All titles composed and played by Michel Lelong, 17 guitar finger-picking instrumental tracks in the spirit of Ragtime piano styles, Jazz roots, Country-Folk… Slipped into a nice cover designed by the author of "Carmen Cru," Jean-Marc Lelong, the oldest brother of Michel, very famous cartoonist in France (see this page)
Notice: Some common titles with the CD "Black & White" from 1996 are completely different regarding the arrangements titles.
Titles
SIDE A: 1 – Mickey's Ragtime Guitar (MP3), 2 – The Big White Cat And The Little Black Dog, 3- Tribute To Mississippi John Hurt, 4 – Pepe Ballade, 5- Six Strings Rag, 6 – Five Years Ago, 7 – Country Musette, 8 – Clockwork Waltz, 9 – The A.D. Meeting Story
SIDE B: 1 – Blue Devils Flowers, 2 – FriendShip Song, 3 – Princess Waltz, 4 – Marcel's Tune, 5 – Three Times Danc,e 6 – Medley: Sweet Song/Nathalie's Song, 7- Guitar Pickers' Saloon, 8- Cameleon Rag.